Find out more about the people behind Spencer Hill Wine

Our business depends on efficiency and always trying to improve through new ideas and technology. Our management staff is shown below but it is important to remember that we also depend on the dedication of many other vineyard and winery staff who have been with us for years.
People such as George Dixon, John Leach, Leo Pearce, Blake Tahapehi  and John Dippie are essential to our success. Most have worked worked for us many years. Some never seem to want to retire and they are always welcome to stay as long as they want. Without them none of us can do our jobs properly. In addition it is important to mention our local sales representative Jo Randell who provides us great feedback from the local community about our wines, many that are released only here or prior to worldwide release.
I started as head winemaker, then Matt took this position and now Jules. As we go through time it is particularly pleasing to see that the winery is successful and can offer the younger generation the ability to step up the ladder.
Phil Jones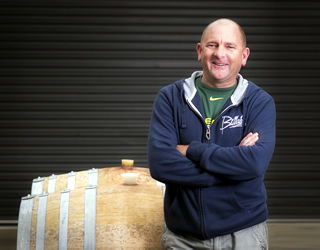 Matthew Rutherford
Managing Director
Matt has been with the winery since 1990. For many years he worked with Phil as Assistant Winemaker, then Head Winemaker and now is in charge of the company. He  provides valuable support to the team with his wine making and Viticulture skills and knowledge of the wine industry in general. He has earned his position as Managing Director through dedication, hard work and his genuine care for others opinions. Matt is an expert in the requirements of making kosher wines and also has a thorough understanding of the wine markets worldwide.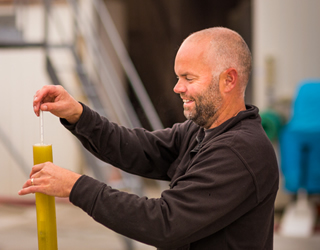 Jules Randell
Head Winemaker
Jules joined the staff in June of 2011 as Associate Winemaker working with Matt. A graduate of Lincoln University with a BS in Oenology he has had significant experience as a winemaker at a number of Australian wineries.  After three years of working with us he has now taken the position as Head Winemaker. Jules has earned this position. As hard as it has been for Phil and Matt to give up their wine making roles over the years….he has earned their respect and admiration for continuing the tradition as well as introducing new styles of wines. Jules attention to detail is what makes all of his wines special. The winery moves on in great hands.
Philip & Sheryl Jones
Founders
Philip and Sheryl came to New Zealand from California to start the winery and raise the family in 1989. Spencer Hill's success was based on Phil's passion for getting things right. Within four years of starting the winery he had won the top Chardonnay prize in the world at the International Wine and Spirits Competition in London. Many top awards followed over the next two decades.
Philip graduated from the University of California with a BS in Viticulture and graduate degrees in Pest Management and Oenology. He is considered an expert in Integrated Pest Management and Sustainability in agriculture. He spent 20 years as a agricultural consultant to various federal and state agencies and numerous agricultural companies. Sheryl graduated from California State University with a BS in Psychology and spent 15 years as an independent sales consultant in California.
Both Phil and Sheryl are active in providing sales and marketing support to the winery. They are both active pilots and have raised two sons.